welcome
talktotheworld.com – it's all about communication!
We are an international marketing materials development and localisation network. Our management and marketing consultants, as well as our local language specialists (including trainers, translators, interpreters and copywriters) work for many of the world's leading companies (Top 100 Global Brands, Fortune 500 and German DAX 30). We collaborate with localisation experts and advertising agencies in more than 180 countries worldwide.
• International collaboration and cooperation
• International brand and marketing development
• Localisation of international marketing material
• Translation, cross-cultural copywriting and design
• Corporate university platforms and training


Training
Our corporate universities networks offers management education and development, combined with English language training. We provide face-to-face training and self-study material. This could be online via an e-learning platform, on-site/in-house companies or hotels (blended learning). We are passionate believers in the principle of 'learning through doing' – that true knowledge comes from action and interaction with experts. Want to find out more? Get in touch with our network of trainers and consultants!
Awards
Our corporates universities networks offers training and consulting services in the areas of innovations and inventions, change and growth, management skills and English training, peoples development, corporate social responsibility, and corporate citizenship. Our consultants and trainers have won over 50 national and international awards. talktotheworld.com is winner of the EFS (Enterprise Fellowship Scheme) competition of the universities of Warwick, Wolverhampton, Staffordshire, Keele, Coventry, and Central England.
Memberships
talktotheworld.org is an associate member of the Cambridge University Entrepreneurs, Oxford Entrepreneurs Club and The Learning Lab UK.
awards
Award from six English universities: talktotheworld.com is winner of the efs - enterprise fellowship scheme competition of the universities of Warwick, Wolverhampton, Staffordshire, Keele, Coventry, and Central England (category: high growth potential companies).
Our consultants and trainers won over 50 national & international awards.
memberships
talktotheworld.org is an associate member of the Cambridge University Entrepreneurs, Oxford Entrepreneurs Club and The Learning Lab UK.
talktotheworld.org is an enterprise fellow of the UCE - University of Central England.
talktotheworld.org is a member of the GENISIS Institute for Social Business and Impact Strategies gemeinnützige GmbH (www.genisis-institute.org).
talktotheworld.org is a participant at the VISION SUMMIT in Berlin (visionsummit.org) – the VISION SUMMIT is focussing on the central theme of SOCIAL BUSINESS worldwide.
talktotheworld.com is a participant at the Wittenberg Center for Global Ethics, Building Global Cooperation (www.globalcooperation.org and www.wcge.org).
talktotheworld.org is a participant at the Leipziger Personalforum.
talktotheworld.org is a participant at the SMILE Entrepreneurs Programme (University of Leipzig and HHL-Handelshochschule Leipzig / Graduate School of Management).

French Embassy: talktotheworld.org is a participant at the European Conference "Digital Archive and Cultural Memory – 100 representatives of the digital world from Europe" (2014).

services
Our network specialises in languages and cross cultural communications, English training, change management and corporate learning. Our network includes over 2000 specialists worldwide in the areas of languages, marcom & IT/web services (authors, consultants, copywriters, interpreters [conference & judicial], directors [tv, film & video], journalists, lecturers, project managers, speechwriters, teachers, trainers and translators).
Included are over 500 management trainers and consultants - with more than 50 speech & debate and campaign awards, 7 international awards - executive consultants, blue chip- and global player-experienced MBAs from Wharton, Insead, Harvard, Oxford, Cambridge, and Warwick (please see authors and trainers).
talktotheworld.com provides services such as international consultancy, business development, localisations, adaptations and translations in marketing, advertising, communications and design (e. g. cross cultural communications and adaptations such as brochures, corporate and annual reports, corporate tv and videos, PR / press releases, marcom campaigns, websites etc.)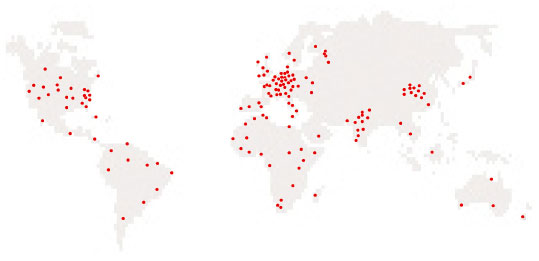 talktotheworld.com network

We also provide full consultancy and agency services in management English training, translation, cross-cultural marketing, communication and design. talktotheworld.com is a network of cross-cultural specialists in global advertising and marketing. Our partner organisation glocalise.net is a network of specialists in what we call glocalisation services. We believe that the markets of the future will combine local and global elements, hence the need for successful players to glocalise their products.
We offer a range of services in the fields of business development, marketing communications, corporate learning and IT. For example, our international specialists adapt content for all media – print, radio, TV, video, computer and internet – to different languages, keeping in mind the regional differences and technical requirements of each target market.
We have built up an international database of localisation specialists based in 196 countries and 2000 largest cities. These include authors, consultants, copywriters, designers, journalists, leading speakers and motivators, PR specialists, speechwriters, voice-over speakers, trainers, translators and interpreters (all are natives from the particular target market).
Worldwide Corporate University Network
- Management education and development services
- International consultants and trainer network

Worldwide Consultancy and Agency Network
- language, cross-cultural communication and marketing services
- Internationalisation through 'glocalisation' services

Worldwide IT Services Network
- Business and cooperation webs
- CMS (Content Management Systems) and partner network shops
- Semantic web 2.0 & 3.0 service provider / SaaS / PaaS
talktotheworld.com – IT is all about communication!


training
talktotheworld.com offers management education and development combined with English language training. Expertise comes from talking to experts. Our Motto: learning by doing. Improve your practising skills!
We offer blended learning facilities, such as face-to-face (seminar hotels and in-house company training), offline (DVDs, CD-ROMs, CDs), and online courses (general and business English; management skills modules) including audio, video, classroom and conference systems, and e-forums.
Employee references from Audi, Edding, Langnese-Iglo/Unilever, leipzig.de/LTS - Leipzig Tourist Service, Media Markt & Saturn, Mercedes-Benz/DaimlerChrysler, MLP, Scholz & Friends, Sharp, TBWA, TU-Hamburg-Harburg, UKE-Universitätsklinik Hamburg-Eppendorf: very good
about us
Who we are
talktotheworld.com is a management specialist network with over 500 authors, coaches, consultants and trainers including MBAs from the top 5 and top 30 business schools worldwide (e.g. Wharton, INSEAD, Oxford, Cambridge, Warwick).

What we offer
Our programme includes over 60 management topics and can be booked as seminars, workshops & lectures. We also offer some management modules via our shop.
How we work
Client's needs are individually analysed together with each participant through our proficiency test. This test will show the knowledge & language level of each learner to then determine an individual training programme defining targets & progress.
the talktotheworld.com programme
The core concept behind talktotheworld.com is entirely new. One not only learns management skills, techniques and methods but also the business English needed for that. No other management education and development or English language training course available at present offers business managers this two-in-one learning combination.
for non-English native speakers
In countries like Germany, Latin America or Spain, training participants go two to three times through the same training topic. For instance to learn presentation skills, a German student would at first learn presentation skills in his mother tongue German. When a company discovers the need for experienced presenters for the international market, these students would then receive additional training in the English language (refresher courses). Thirdly, the company could then register for courses which are geared to presentation skills in English.
for English native speakers
English native speakers can use our management programme to improve their management performance.
save over 50% in time and money
Company training provided through talktotheworld.com enables human resource managers to save over 50% of their time and money by combining management skills and English language training. With the increase of globalisation, English retains its status as the worldwide leading business language! talktotheworld.com offers a two-in-one solution: management education and development combined with English language training.
17 specific management and communication skills modules
To boost your skills we have so far developed 17 specific management and communication skills modules. Each topic requires approximately 3 to 10 hours to complete depending on the user's language proficiency level (beginner, intermediate to advanced). They are easy to use, you can complete one topic every day or week or month. The management and communication skills training increases the student's efficiency and output. Participants can achieve results and performances which are much better than the ones previously obtained (e.g. in negotiations, presentations, marketing or sales).


history of talktotheworld.com
This programme was conceived as a result of the frustrated search of a German businessman for a business management English course that best suited his requirements.

Having tried out numerous English courses, both privately and at language schools, the gentleman gave up; he could find no suitable course to satisfy his specific needs in the areas of management, marketing or advertising.

Consequently he approached a publishing group with his problem and there was born the vision of this unique course - two-in-one: management skills combined with English language training.

Over the next two and a half years a team of over seventy English teaching experts, management consultants and professionals in the areas of management, marketing and advertising from Australia, Canada, Great Britain, Ireland, New Zealand, the USA and Germany worked together to develop the talktotheworld.com series.

The series is aimed at executives, entrepreneurs, managers and all those who wish to achieve high performance in English while at the same time improving their knowledge of business management skills and methods.

The talktotheworld.com business management and English training series is available online via the World Wide Web.
talktotheworld.com references
Audi AG
BMW AG
edding AG
HAW-Hamburger Aluminium Werk
Unilever / Langnese (Walls) Iglo
Media Markt & Saturn
Mercedes Benz AG
MLP Finanzdienstleistungen AG
Scholz & Friends Advertising Agency
Sharp
SIHI
TBWA Advertising Agency
Technische Universität Hamburg-Harburg
UKE-Universitätsklinik Hamburg-Eppendorf
leipzig.de / lts-leipzig tourist service



opinions of the participants
A manager from SHARP: "Material: excellent"
A manager from AUDI: "Congratulations!"
A manager from MERCEDES-BENZ: "A very good seminar."
A manager from UNILEVER (LANGNESE-IGLO [WALL's]): "I particularly liked the opportunity to do two presentations and to see oneself and the interchange between theory and practice"; "I will definitely recommend talktotheworld.com to others!"
A manager of the worldwide advertising agency TBWA: "An excellent and successful presentation seminar"
A manager from EDDING: "I liked the seminar very much"; "Very positive: two practical exercises per person despite lack of time"
A manager from MEDIA MARKT / SATURN: "I found the seminar very good, I learned a lot, particularly from the exercises in front of the camera"
A manager from the advertising agency SCHOLZ & FRIENDS: "Easy going and very professional"; "It was great fun!" "Content: very comprehensive"
A manager at the TECHNICAL UNIVERSITY OF HAMBURG-HARBURG: "I especially liked the way the participants were motivated to take part"; "I would like to emphasise, in addition, the special benefit of the video recording."
authors, coaches, consultants & trainers
Speech & campaign award winners, chairmen consultants, blue chip / global player experienced MBAs from Wharton, Insead, Oxford, Cambridge and Warwick.
course description
Prize-winning English refresher course: including free grading test and certificate of successful completion. talktotheworld.com has received awards from six English universities. Its content was developed by multi-award-winning management and language trainers (its authors have won over 50 prizes and awards). Content and themes: social issues, economics, politics, science, culture, art, literature, music, philosophy, religion, psychology, sociology, etc.
Everyday English: expressing opinions, greetings and farewells, communication, making schedules, getting acquainted, dining out,culture, leisure, camping, staying in hotels, on the street, in the post office, in the bank, at the police station, health, at the dentist's, shopping, at the pharmacy, photographic equipment, asking questions, numbers, weights and measures, quantities, times, calendar, the sky and space, the weather, spatial relations, the human body, the senses, life & death.
Professional English: telephoning, negotiating, presenting, correspondence, discussions, decisions, organizing meetings, marketing, advertising, office, etc.
Contact: contact@talktotheworld.com
Kursbeschreibung
Preisgekrönter Englischkurs für Anfänger und Fortgeschrittene inklusive kostenlosem Einstufungstest und Abschlusszertifikat (nur 1€ pro Tag - ab 7 Tage): talktotheworld.com wurde von 6 englischen Universitäten ausgezeichnet und die Inhalte von mehrfach preisgekrönten Trainern- und Autoren erstellt (über 50 Preise und Auszeichnungen).
Inhalte und Themen: Gesellschaft, Wirtschaft, Politik, Wissenschaft, Kultur, Kunst, Literatur, Musik, Philosophie, Religion, Psychologie, Soziologie, etc.
Allgemeines Englisch: Meinungen & Äußerungen, Begrüßen, Verabschieden, Verständigen, Zeitliche Angaben, Bekanntschaften, Essen & Trinken, im Restaurant, Kultur, Freizeit, Camping, im Hotel, auf der Straße, in der Post, in der Bank, in der Polizei, Gesundheit, beim Zahnarzt, Einkaufen, Drogerieartikel, Fotoartikel, Fragewörter und Fragen, Zahlen, Maße & Gewichte, Mengenangaben, Zeitpunkt, Zeitraum, Kalender, Uhrzeit, Uhr, Himmel & Weltall, Wetter, Raum, Lage im Raum, Mensch, Körper, Sinne, Leben & Tod.
Berufliches Englisch: Telefonieren, Verhandeln, Präsentieren, Korrespondieren, Beraten, Entscheiden, Meetings organisieren, Marketing, Advertising, Office, Management Skills, etc.
Contact: contact@talktotheworld.com
general information
Now is the time to improve your skills with talktotheworld.com management & English training and professional development seminars. Join the successful managers, leaders and professionals who come to talktotheworld.com each year to enhance core skills and to stay ahead of evolving trends.

talktotheworld.com offers over 60 specific seminars in diverse subject areas including management, leadership, communication, interpersonal skills, finance, marketing, sales and project management. Topics: People Development, Change & Growth, Corporate Social Responsibility and Citizenship in cooperation with talktotheworld.com Corporate University Network.
special topics
Proficiency level: Intermediate to Advanced. We offer 40 additional special interest topics through the English language - You can select and learn about whichever area of business management that interests you.
Topics: People Development, Change & Growth, Corporate Social Responsibility and Citizenship in cooperation with talktotheworld.com Corporate University Network.
english test
This test offers you the possibility to check and classify your current English knowledge (10 level).
| | |
| --- | --- |
| Total points | Knowledge level |
| 0 - 10 Points | 1. total beginner |
| 11 - 20 Points | 2. beginner |
| 21 - 30 Points | 3. false beginner |
| 31 - 40 Points | 4. intermediate refresher |
| 41 - 50 Points | 5. intermediate |
| 51 - 60 Points | 6. intermediate to advanced |
| 61 - 70 Points | 7. advanced refresher |
| 71 - 80 Points | 8. advanced |
| 81 - 90 Points | 9. very advanced |
| 91 - 100 Points | 10. native speaker |
Free english test:
contact@talktotheworld.com
contact
talktotheworld.com - it's all about communication!


SERVICES
talktotheworld.com is a worldwide freelancer & agency network
- cross cultural communication and marketing services
- internationalisation, globalisation and localisation services
talktotheworld.com offers a worldwide corporate universities network
- management education & development services
- international coaches, consultants, speakers & trainers network
_ _ _ _ _
talktotheworld.com and Sunrise GK are Network partner
services@sunrise.agency
contact@3tw.org
contact@talktotheworld.com

_ _ _ _ _

Formerly registered at companieshouse.gov.uk 05173997,
TALKTOTHEWORLD.COM LTD,
Enterprise fellow of the UCE - University of Central England,
Edge Building, Room 822, 8th Floor,
Franchise Street, Perry Barr, Birmingham B42 2SU
Imprint
_______________________________________________________


CONTACT AND ENQUIRIES

_______________________________________________________
talktotheworld.com Ltd.
Registered at companieshouse.gov.uk
05173997
Incorporation date 08/07/2004
Registered Address: Baker Building, Room 822, 8th, Floor, Franchise Street, Perry, Barr, Birmingham, West Midlands, B42 2SU

talktotheworld.com (3tw.org network) provide cross cultural communication services
in the areas of strategy and business development, marketing, communication/PR, design -
consultancy and agency full service as well as localisations, adaptations and translations.
_______________________________________________________


DISCLAIMER

_______________________________________________________

© 2017. The contents of this worldwide web site are owned by talktotheworld.com (3tw.org network). All rights are reserved. talktotheworld.com (3tw.org network) accepts no responsibility or liability regarding material on this site. Information supplied on this site is of a general nature only. Specific advice should always be sought from a suitably qualified professional. This site contains links to third party websites. talktotheworld.com disclaims all liability in respect of such material.




freelance contributions
Helpful information for contributors providing work to the 3tw.org network and talktotheworld.com Ltd. e-learning platform and their associated online websites, magazines, or any media forms.
Published: The 3tw.org networks' and the talktotheworld.com Ltd. e-learning platforms' terms of business for freelance writers and contributors.

The 3tw.org network and the talktotheworld.com Ltd. e-learning platforms are happy to publish work produced by freelance writers and contributors, and their work is showcased in the titles daily and appreciated worldwide by our readers. Some contributors, including readers whose letters and reviews are published, don't receive a fee, but do get the opportunity to have their work published in a worldwide 3tw.org network with their cooperation partners and the talktotheworld.com Ltd. e-learning platforms and their online news.

It is very important for both parties that there is a clear understanding early on over what rights in the material are owned by which party. As is the case with other online news, newspapers and magazines, we need to have certain rights to allow us to do things with all the material in our titles and media.

One example is that since the early days of the internet we have put the information online, on our own group's and network websites and those of other third party hosts. This gives our material much greater exposure and ensures that the quality writing which we publish in the 3tw.org network and the talktotheworld.com Ltd. e-learning platforms is widely available to interested readers in a variety of archives and sites on the net.

We also license photocopying, and feed the contents of the 3tw.org network and the talktotheworld.com Ltd. e-learning platforms to a range of associated newspapers and magazines and other outlets.

Writers will note that apart from our own right of first publication, which is exclusive, all 3tw.org network and talktotheworld.com Ltd. e-learning platforms' other rights are non-exclusive which means that writers and contributors can also freely exploit the works themselves in these marketplaces.

Accordingly, freelance writers and contributors should be aware that the Terms set out below are the terms of business that will apply to all material you may provide to us, however supplied - commissioned, sent on spec or whatever.

There can be no variation of these Terms. The only exception to this rule would be in the event that a Director of the 3tw.org network and the talktotheworld.com Ltd. e-learning platforms has expressly varied the Terms by a prior agreement in writing. If any writer is not happy with the Terms then they should not offer us any material, nor accept any commission from us.
TERMS
1. The important point for you is that you retain copyright in the material.

2. For its part, the 3tw.org network and the talktotheworld.com Ltd. e-learning platforms has the following rights over the material:

2.1 the exclusive, worldwide right to first publication in online platforms, newspapers/magazines or any media;

2.2 the non-exclusive right to publish, syndicate, distribute and exploit the material in all present and future media and formats, including print, electronic, online and others. If your material is syndicated by us to an end user customer as an individual piece of work in print ("spot sale") you will receive 50% of the net revenue attributable to that sale;

2.3 the non-exclusive right to include the material on any website and in any database, archive or library on- or off-line or in any other present or future media; and
2.4 non-exclusive reprographic rights

3. All the rights detailed above may be exercised by the 3tw.org network and the talktotheworld.com Ltd. e-learning platforms or by others to whom we have licensed these rights. You will note that the rights we get under points 2-4 are non-exclusive so you are also free to exercise these rights, but of the 3tw.org network and the talktotheworld.com Ltd. e-learning platforms syndication department is set up to handle all enquiries for spot sales in print so we ask you to pass on to them any such enquiries that may be directed to you.

The 3tw.org network and the talktotheworld.com Ltd. e-learning platforms' continuing ability to commission material from freelance writers is dependent on us holding the necessary rights. Therefore any material a freelance writer submits to us is deemed to have been supplied in full knowledge and acceptance of these Terms.

Revised 27th January 2014
Terms and Conditions
TERMS AND CONDITIONS
Set forth below are the terms and conditions (these "Terms and Conditions") governing the talktotheworld.com website (and / or talktotheworld.org and / or 3tw.org and / or any other sub-domains) located at, or linked to through, the root URL 3tw.org or any others, which may expand or change from time to time (the "Website"). As used herein, the term "talktotheworld.com" refers to talktotheworld.com, the sole owner and operator of the Website (3tw.org); the term "you" or "your" refers to an individual, representing yourself or, if applicable, acting as legal representative for a group, business entity or corporation.
CAREFULLY READ THESE TERMS AND CONDITIONS. BY AVAILING YOURSELF OF THE WEBSITE OR RELATED SERVICES, YOU ARE CONSENTING TO BE BOUND BY THESE TERMS AND CONDITIONS AS SUCH TERMS MAY BE MODIFIED FROM TIME TO TIME AS DESCRIBED BELOW.

Use of Materials Found on the Website: The information, artwork, text, video, audio, pictures, software and other intellectual property (collectively, "Materials") contained on the Website are protected by copyright and international laws.

You may only access and use the Materials for personal or educational purposes or as expressly provided for in applicable talktotheworld.com program terms and conditions. You may not otherwise reproduce, distribute, publicly perform, publicly display, modify, or create derivative works of the Materials, unless authorized by the appropriate copyright owner(s).
In the event that you print Materials found on the Website, you must include any copyright notice originally included with the Materials on all copies. You may not link directly to any media file located on a talktotheworld.com server, except where explicitly allowed to do so. You should not attempt to claim any Materials as your own work. Any software downloadable or otherwise available on the Website is provided subject to the terms of the applicable license agreement. Before using any talktotheworld.com logo or trademark, please contact talktotheworld.com
Copyright and Trademark Infringement Policy and Notification Procedure: talktotheworld.com does not own the musical compositions, sound recordings, art or other written or visual images (collectively, the "Content") posted by third parties to the Website. All Content is posted by an individual, group or company (collectively, the "Author") who has represented and warranted to talktotheworld.com that, among other things, neither the Content nor the names, trademarks and service marks under which Content is promoted (collectively, the "Name") infringes any third party's copyright, patent, trademark, trade secret or other proprietary rights, rights of publicity or privacy, or moral rights.
Since talktotheworld.com is not in a position to determine who has the prevailing claim to use any particular Content or Name posted to the Website, its policy on such matters is that they be resolved directly by the parties alleging misuse of their Content and/or Name (the "Complainants") and the Authors. We recommend that Complainants immediately notify Authors about allegations of infringement by going to the Author's page on the Website, clicking the Contact link and contacting the Author directly. It has been talktotheworld.com's experience that most Authors are honest and responsible citizens who may not realize they are engaged in infringing activities. Typically, once notified of a claim, Authors voluntarily cease using such infringing Content and/or Name on the Website and elsewhere.
Complainants may notify talktotheworld.com concerning any Content and/or Name being used on the Website in violation of their rights by sending an email to contact@talktotheworld.com only shall use information provided by Complainants in accordance with its then-current Privacy Policy and as reasonably necessary to address any allegations contained therein, which may include disclosing some or all of the information to Authors. In most cases, soon after receiving written notice alleging infringement, talktotheworld.com either will remove the allegedly infringing Content and/or Name from those web pages identified or, at its election, remove those web pages.
Your Conduct: You shall use the Website for lawful purposes only. You shall not post or transmit via the Website any material which violates or infringes in any way upon the rights of others, which is unlawful, threatening, abusive, defamatory, invasive of privacy or publicity rights, vulgar, obscene, profane or otherwise objectionable, which encourages conduct that would constitute a criminal offense, give rise to civil liability or otherwise violate any law, or which, without talktotheworld.com's express prior approval, contains advertising or any solicitation with respect to products or services.
Warranty Disclaimer.
YOU EXPRESSLY AGREE THAT USE OF THE WEBSITE AND RELATED SERVICES IS AT YOUR SOLE RISK. THE WEBSITE, MATERIALS AND RELATED SERVICES ARE PROVIDED ON AN "AS IS" AND "AS AVAILABLE" BASIS. TALKTOTHEWORLD.COM MAKES NO REPRESENTATIONS OR WARRANTIES WITH REGARD TO THE WEBSITE OR ANY MATERIALS THEREIN, WHETHER EXPRESS OR IMPLIED, ARISING BY LAW OR OTHERWISE, INCLUDING, WITHOUT LIMITATION, ANY IMPLIED WARRANTY OF MERCHANTABILITY, FITNESS FOR A PARTICULAR PURPOSE OR NON-INFRINGEMENT OR ANY IMPLIED WARRANTY ARISING OUT OF COURSE OF PERFORMANCE, COURSE OF DEALING OR USAGE OF TRADE.
IN ADDITION, TALKTOTHEWORLD.COM MAKES NO REPRESENTATION THAT THE OPERATION OF THE WEBSITE WILL BE UNINTERRUPTED OR ERROR-FREE. TALKTOTHEWORLD.COM WILL NOT BE LIABLE FOR THE CONSEQUENCES OF ANY INTERRUPTIONS OR ERRORS ON THE WEBSITE. IT IS YOUR RESPONSIBILITY TO EVALUATE THE ACCURACY, COMPLETENESS OR USEFULNESS OF ANY OPINION, ADVICE, INFORMATION OR OTHER CONTENT OR MATERIALS PROVIDED IN CONNECTION WITH OR OTHERWISE AVAILABLE THROUGH THE WEBSITE. PLEASE SEEK THE ADVICE OF PROFESSIONALS, AS APPROPRIATE, REGARDING THE EVALUATION OF ANY SUCH OPINION, ADVICE, INFORMATION, OR OTHER CONTENT. UNDER NO CIRCUMSTANCE WILL TALKTOTHEWORLD.COM BE LIABLE FOR ANY LOSS OR DAMAGE CAUSED BY YOUR RELIANCE ON INFORMATION OBTAINED THROUGH THE WEBSITE, OTHER THAN AS REQUIRED UNDER APPLICABLE CONSUMER-PROTECTION LAW.
SOME JURISDICTIONS DO NOT ALLOW THE DISCLAIMER OF CERTAIN WARRANTIES OR LIMITATION OF CERTAIN TYPES OF DAMAGES, SO SOME OF THE ABOVE DISCLAIMER MAY NOT APPLY TO YOU AND NOTHING CONTAINED HEREIN SHOULD BE CONSTRUED AS EXCLUDING OR LIMITING ANY LIABILITY BEYOND WHAT IS PERMITTED UNDER APPLICABLE LAW.
Limitation of Liability.
By availing yourself of the Website, Materials or related services, you agree to release and hold talktotheworld.com and the employees, officers, directors, shareholders, agents, representatives of talktotheworld.com, its affiliates, subsidiaries, advertising, promotion and fulfilment agencies, any entity controlling, controlled by or under common control with talktotheworld.com, any third-party providers or sources of information or data and legal advisers harmless from any and all losses, damages, rights, claims and actions of any kind arising from or related to the Website, Materials or related services including but not limited to: (a) telephone, electronic, hardware or software, network, Internet or computer malfunctions, failures or difficulties of any kind.
Updates to the Terms and Conditions
It may be necessary at some point to modify the Terms and Conditions, as the site develops. We reserve the right to do so and suggest that you read this page regularly to make sure that your understanding of it is up to date.
I. Allgemeine Geschäftsbedingungen (Firmenseminare und Beratungsleistungen)
II. Allgemeine Geschäftsbedingungen (Online-Kurse via e-shop und Offline-Bestellungen)
agb
I. Allgemeine Geschäftsbedingungen (Firmenseminare und Beratungsleistungen)

1. Allgemein
Sofern sie den Geschäftsbereich Seminare und Trainings betreffen, werden sämtliche Modalitäten für Firmenseminare,
Einzeltrainings, Workshops, Konzeptions- und Beratungsleistungen sowie ggf. weitere Leistungen wie Raummieten etc.
grundsätzlich einzelvertraglich geregelt. Auch die Modalitäten für etwaige Agenturleistungen (Marketing/Kommunikation/Design/
Corporate Learning) und Kooperationen werden einzelvertraglich mit den betreffenden Vertragspartnern geregelt.
Hingegen werden alle AGBs für die Online-Kurse unter II. AGB - Allgemeine Geschäftsbedingungen geregelt.

2. Honorar
Das Tageshonorar pro Berater/Trainer bzw. Redner- und Künstlerhonorare werden individuell ausgehandelt. Das Tageshonorar
wird je angebrochenem Trainingstag fällig. Eine Abrechnung von halben Tagen ist möglich. Coachingleistungen können per
Tages- oder Halbtages-Honorar abgerechnet werden. Für eine Anreise am Vortag entstehen keine zusätzlichen Honorarkosten.
Hierbei fallen lediglich Reisespesen bzw. Hotelkosten an.

3. Konzepterstellung
Bei individuell konzipierten Veranstaltungen werden Konzeptionstage separat nach Stunden berechnet.

4. Reisekosten und Spesen
Reisekosten und Spesen werden vom Auftraggeber erstattet.
Die Fahrtkosten des Beraters/Trainers zum Veranstaltungsort und zurück werden erstattet mit:
a) dem PKW mit 0,51 € pro gefahrenen Kilometer oder
b) mit der Bahn 1. Klasse (Universitätskunden: 2. Klasse) oder
c) einem Flug - Economy Class oder
d) mit einem Mietwagen der mittleren Kategorie
Die Übernachtung- und Verpflegungskosten des Beraters im Veranstaltungshaus oder in einem dem Veranstaltungsort nahe
gelegenen Hotel bis zu 200,– € pro Übernachtung erstattet.
5. Teilnehmerzahl
Bei Seminaren ist eine Durchführung mit mindestens 4 Teilnehmern möglich. Trainings haben eine maximale Teilnehmerzahl von 12 per Trainer. Projektcoaching und Großgruppenveranstaltungen werden jeweils individuell geregelt.

6. Unterlagen
Über die Veranstaltung kann ein Foto- oder Video-Feedback-Protokoll erstellt werden, das den Teilnehmern in elektronischer Form nach der Veranstaltung zugeht. Bei Bedarf können Teilnehmerunterlagen (Skripte) zur Verfügung gestellt werden, die separat abgerechnet werden, falls nicht anders vereinbart.

7. Organisation
Die Organisation der Veranstaltung (Raum- und Hotelreservierung, Tagungsausstattung, Nennung und Einladung Teilnehmer,
Abrechnung mit den Teilnehmern) erfolgt durch den Auftraggeber.

8. Zahlungsbedingungen
Die ersten 50% des Zahlungsbetrages sind nach Auftragsbestätigung sofort fällig. Nach Erbringung der Leistung erhalten Sie eine Restbetrag-Rechnung entsprechend den mit Ihnen getroffenen Vereinbarungen. Der Rechnungsbetrag wird sofort ohne Abzüge fällig.

9. Stornierungen
Bei Stornierung ab 8 Wochen vor Veranstaltungsbeginn berechnen wir Ihnen Kosten in Höhe von 50% des Honorarsatzes.
Ab 4 Wochen vor Veranstaltungsbeginn berechnen wir 100%.

10. Abweichung in der Durchführung und Absagen durch talktotheworld.com
Die Beschreibung der Veranstaltungsinhalte entspricht dem Stand zum Zeitpunkt der Angebotserstellung. Änderungen aufgrund
der Aktualisierung und Weiterentwicklung unserer Veranstaltungen behalten wir uns vor. Wir behalten uns vor, einen anderen
Veranstaltungsleiter ersatzweise einzusetzen. Sollte eine Veranstaltung wider Erwarten aus von uns zu vertretenden Gründen
abgesagt werden, so dass der Auftraggeber die Veranstaltung stornieren muss, erstatten wir ggf. den bereits gezahlten
Veranstaltungspreis einschließlich Hotelkosten. Darüber hinaus gehende Ansprüche bestehen nicht.

11. Copyright und Urheberschutz
Sämtliche Seminarunterlagen dienen ausschließlich der persönlichen Nutzung durch den Teilnehmer. Alle Rechte, auch die
der Übersetzung, des Nachdrucks und der Vervielfältigung der Seminarunterlagen oder von Teilen daraus behalten wir uns vor.
Insbesondere darf kein Teil der Seminarunterlage ohne schriftliche Genehmigung durch talktotheworld.com zum Zwecke der
Unterrichtsgestaltung reproduziert, verarbeitet, vervielfältigt oder verbreitet werden. Eine auszugsweise Kopie darf gerne erstellt
werden, wenn die Inhalte nicht verändert werden, das Copyright-Zeichen mit dem Zusatz "mit freundlicher Genehmigung von
talktotheworld.com" und somit das Urheberrecht gewahrt bleibt.

12. Datenschutz
Interne Informationen des Auftraggebers – Unternehmen und Mitarbeiter – werden loyal und vertraulich behandelt. Die zur
Versendung von Unterlagen erforderlichen eMail-Adressen von Teilnehmern und Koordinatoren werden mit deren Zustimmung
zur Versendung von talktotheworld.com Newslettern verwandt. Sie werden nicht an Dritte weitergegeben.

13. Salvatorische Klausel
Sollte eine Bestimmung dieses Vertrages ungültig oder undurchsetzbar sein oder werden, so bleiben die übrigen Bestimmungen
dieses Vertrages hiervon unberührt.

14. Gerichtsstand
Leipzig, Deutschland
II. Allgemeine Geschäftsbedingungen (Online-Kurse via e-shop und Offline-Bestellungen)

1. Allgemeines
a. Abweichungen von diesen Allgemeinen Geschäftsbedingungen (AGB) bedürfen der ausdrücklichen schriftlichen Anerkennung
durch talktotheworld.com Ltd. ( 3tw.org ) sowie etwaige andere Vertragspartner.
b. Änderungen der AGB behält sich die talktotheworld.com Ltd. ausdrücklich vor.

2. Vertragsabschluss
a. Die unter der Domain www.talktotheworld.com aufrufbaren Seiten mit Warenangeboten stellen noch kein Angebot zum Abschluss eines Vertrages, sondern lediglich eine Aufforderung zur Abgabe einer Bestellung durch den Kunden (invitatio ad offerendum) dar.
b. Ein Vertrag kommt dadurch zustande, dass der talktotheworld.com das durch die Bestellung des Kunden abgegebene Vertragsangebot
durch seine Auftragsbestätigung annimmt. Die Auftragsbestätigung sieht die wesentlichen Bestandteile der Bestellung vor.
c. Ein Vertrag kommt erst mit Zusenden der Ware zustande, wenn talktotheworld.com keine E-Mail-Adresse des Kunden vorliegt und er keine Auftragsbestätigung versenden kann oder dann, wenn die Auftragsbestätigung nicht alle wesentlichen Bestandteile der Bestellung umfasst und es sich lediglich um eine vom System automatisch generierte Bestätigung des Eingangs der Kundenbestellung handelt.

3. Widerrufsrecht des Kunden
a. Der Kunde ist an seine Erklärung nicht mehr gebunden, wenn er sie binnen einer Frist von 2 Wochen nach Eingang der Ware widerruft. Der Widerruf muss keine Begründung enthalten und schriftlich, auf einem anderen dauerhaften Datenträger oder durch Rücksendung der Ware erfolgen. Zur Fristwahrung genügt die rechtzeitige Absendung des Widerrufs an die talktotheworld.com Ltd., Abteilung Kundenservice, Langereihe 14, 22941 Jersbek.
b. Nach Eingang des Widerrufs ist die talktotheworld.com Ltd. verpflichtet, eventuelle Zahlungen zurück zu erstatten. Der Kunde ist verpflichtet, die Ware auf Kosten und Gefahr der talktotheworld.com Ltd. es an diese zurückzusenden. Die Rücksendekosten bei einer Bestellung bis zu EUR 40,- trägt der Kunde.

4. Lieferbedingungen
Bestellungen werden so schnell wie möglich erledigt. Unsere Lieferzeiten betragen innerhalb Deutschlands maximal 8-10 Tage.
Eine Verpflichtung zur Einhaltung eines bestimmten Liefertermins kann nicht übernommen werden. Betriebsstörungen, Streiks,
Verkehrs- und andere vom talktotheworld.com Ltd. nicht zu vertretende Hindernisse entbinden den Verlag von der Vertragserfüllung.

5. Lehrerfreistücke - Änderung der Gesetzeslage
Seit 01. Oktober 2002 ist Verlagen nach §§1 und 7 Abs.1 Nr.3 des Buchpreisbindungsgesetzes die Abgabe von Lehrerhandstücken nicht mehr gestattet. Davon nicht betroffen sind Lehrerprüfstücke, die weiterhin zur Prüfung auf Einführung mit 20% Ermäßigung und zur Ansicht mit Rückgabemöglichkeit innerhalb von drei Monaten abgegeben werden.

6. Preise und Zahlungsbedingungen
a. Die Preisangaben im Online-Katalog der talktotheworld.com Ltd. und auf den Seiten der Domain www.talktotheworld.com sind freibleibend.
b. Die angegebenen Euro-Preise gelten weltweit.
c. Alle über den Online-Katalog der talktotheworld.com per Internet bestellbaren Produkte werden direkt an die vom Kunden angegebene
Lieferadresse gegen Zahlung der Versandkosten geliefert. talktotheworld.com Ltd. berechnet die Versandkosten pauschaliert;
Nachlieferungen erfolgen versandkostenfrei. Die Pauschale für Porto und Verpackung beträgt innerhalb der Bundesrepublik
Deutschland EUR 1,50. Die Aufträge werden auf dem - nach Ermessen des talktotheworld.com günstigsten Weg und sofern keine
Einschränkungen des Versandträgers vorliegen - verpackt und zugesandt.
d. Die Zahlungsbedingungen ergeben sich aus der Rechnung. Sofern diese ausnahmsweise hierzu keine Angaben enthält, gelten
folgende Zahlungsbedingungen: Rechnungsbeträge sind innerhalb von 14. Tagen ab Rechnungseingang beim Kunden ohne Abzug zur Zahlung fällig. Zahlungen sind auf das Konto der Joy Ventures UG, BIC BEVODEBB, IBAN DE43100900002465919003 bei der Berliner Volksbank zu überweisen.
7. Eigentumsvorbehalt
Die talktotheworld.com Ltd. behält sich das Eigentum an der von ihr gelieferten Ware bis zur vollständigen Bezahlung des gesamten
Kaufpreises vor. Erst mit vollständiger Bezahlung des Kaufpreises durch den Kunden geht das Eigentum an der Ware auf diesen
über (§ 455 BGB).

8. Gewährleistung
a. Ist die an den Kunden gelieferte Ware mit Fehlern behaftet, so wird talktotheworld.com Ltd. den Mangel beseitigen oder Ersatz
liefern. Ist eine Mängelbeseitigung oder eine Ersatzlieferung innerhalb einer angemessenen Frist nicht möglich, so kann der Kunde wahlweise den Kaufpreis mindern oder vom Vertrag zurücktreten.
b. Die talktotheworld.com Ltd. haftet für das Fehlen zugesicherter Eigenschaften.
c. Die talktotheworld.com Ltd. haftet für vorsätzliche oder grob fahrlässige Verletzungen wesentlicher Vertragspflichten. Darüber hinaus besteht eine Haftung – gleich aus welchem Rechtsgrund – nur nach dem Produkthaftungsgesetz oder bei vorsätzlicher oder grob fahrlässiger Schadensverursachung durch die talktotheworld.com Ltd. oder seine Erfüllungsgehilfen.
d. Für den Fall einer leicht fahrlässigen Verletzung einer Hauptleistungspflicht beschränkt sich die Haftung höchstens bis zum typischerweise vorhersehbaren Schaden, der den Kaufpreis regelmäßig nicht überschreitet und auf Schäden an der bestellten Ware begrenzt ist.

9. Datenschutz
a. Der Kunde stimmt der Erhebung, Verarbeitung und Nutzung von personenbezogenen Daten, soweit sie für die Begründung,
inhaltliche Ausgestaltung oder Änderung des Vertragsverhältnisses mit ihm über die Nutzung von Telediensten (sog. Bestandsdaten) und zur Abrechnung (sog. Abrechnungsdaten) erforderlich ist, zu. Der Kunde ist ferner mit der Erhebung, Verarbeitung und Nutzung von Daten über die Inanspruchnahme von Telediensten insoweit einverstanden, als dies erforderlich ist, um dem Kunden die Inanspruchnahme von Telediensten zu ermöglichen (sog. Nutzungsdaten).
b. Der Kunde stimmt einer Verarbeitung und Nutzung der Bestandsdaten gemäß Ziffer a) für Zwecke der Beratung, der Werbung und der Marktforschung zu.

10. Schlussbestimmungen
a. Es gilt das Recht der Bundesrepublik Deutschland unter Ausschluss des UN-Kaufrechts. Ist der Kunde Vollkaufmann, so ist der
Gerichtsstand Hamburg oder nach Wahl der talktotheworld.com Ltd. ein allgemeiner Gerichtsstand.
b. Ein nach diesen Bedingungen geschlossener Vertrag bleibt auch bei rechtlicher Unwirksamkeit einzelner Punkte in seinen übrigen Teilen verbindlich. Unwirksame Bestimmungen sind von den Parteien durch wirksame zu ersetzen, die dem gewollten Zweck möglichst nahe kommen. Entsprechendes gilt im Fall einer Vertragslücke.
Rechtshinweise zum Haftungsausschluss

1. Inhalt des Online-Angebotes
Die talktotheworld.com Ltd. übernimmt keinerlei Gewähr für die Aktualität, Korrektheit, Vollständigkeit oder Qualität der bereitgestellten Informationen. Haftungsansprüche gegen die talktotheworld.com Ltd., welche sich auf Schäden materieller oder ideeller Art beziehen, die durch die Nutzung oder Nichtnutzung der dargebotenen Informationen bzw. durch die Nutzung fehlerhafter und unvollständiger Informationen verursacht wurden, sind grundsätzlich ausgeschlossen, sofern seitens der talktotheworld.com Ltd. kein nachweislich vorsätzliches oder grob fahrlässiges Verschulden vorliegt. Alle Angebote sind freibleibend und unverbindlich. Die talktotheworld.com Ltd. behält es sich ausdrücklich vor, Teile der Seiten oder das gesamte Angebot ohne gesonderte Ankündigung zu verändern, zu ergänzen, zu löschen oder die Veröffentlichung zeitweise oder endgültig einzustellen.

2. Verweise, Links und Foren
Bei direkten oder indirekten Verweisen auf fremde Internetseiten ("Links"), die außerhalb des Verantwortungsbereiches der talktotheworld.com Ltd. liegen, würde eine Haftungsverpflichtung ausschließlich in dem Fall in Kraft treten, in dem die talktotheworld.com Ltd. von den Inhalten Kenntnis hat und es ihr technisch möglich und zumutbar wäre, die Nutzung im Falle rechtswidriger Inhalte zu verhindern. Die talktotheworld.com Ltd. erklärt hiermit ausdrücklich, dass zum Zeitpunkt der Linksetzung keine illegalen Inhalte auf den zu verlinkenden Seiten erkennbar waren. Auf die aktuelle und zukünftige Gestaltung, die Inhalte oder die Urheberschaft der gelinkten/verknüpften Seiten hat die talktotheworld.com Ltd. keinerlei Einfluss. Deshalb distanziert sie sich hiermit ausdrücklich von allen Inhalten aller gelinkten /verknüpften Seiten, die nach der Linksetzung verändert wurden. Diese Feststellung gilt für alle innerhalb des eigenen Internetangebotes gesetzten Links und Verweise sowie für Fremdeinträge in von der talktotheworld.com Ltd. eingerichteten Gästebüchern, Diskussionsforen und Mailinglisten. Für illegale, fehlerhafte oder unvollständige Inhalte und insbesondere für Schäden, die aus der Nutzung oder Nichtnutzung solcherart dargebotener Informationen entstehen, haftet allein der Anbieter der Seite, auf welche verwiesen wurde, nicht derjenige, der über Links auf die jeweilige Veröffentlichung lediglich verweist. Die in den Foren zu lesenden Beiträge, geben die Meinung der jeweiligen Teilnehmer wieder. Diese entsprechen nicht in jedem Fall der Meinung der talktotheworld.com Ltd. oder deren Mitarbeitern. Die talktotheworld.com Ltd. behält sich vor, diese Beiträge zu kürzen oder zu löschen, sofern diese einen Inhalt haben, der mit der geltenden Rechtsordnung nicht vereinbar ist.

3. Download
Der Download von Programmen und Dokumenten erfolgt auf eigene Gefahr. Die talktotheworld.com Ltd. haftet nicht für Schäden, die aus der Installation oder der Nutzung von Dateien aus dem Download-Bereich erfolgen, soweit dies gesetzlich zulässig ist. Trotz aktueller Virenprüfung ist eine Haftung für Schäden und Beeinträchtigungen durch Computerviren im Rahmen der gesetzlichen Regelungen ausgeschlossen.

4. Urheber- und Kennzeichenrecht
Die talktotheworld.com Ltd. ist bestrebt, in allen Publikationen die Urheberrechte der verwendeten Grafiken, Tondokumente, Videosequenzen und Texte zu beachten, von ihr selbst erstellte Grafiken, Tondokumente, Videosequenzen und Texte zu nutzen oder auf lizenzfreie Grafiken, Tondokumente, Videosequenzen und Texte zurückzugreifen. Alle innerhalb des Internetangebotes genannten und ggf. durch Dritte geschützten Marken- und Warenzeichen unterliegen uneingeschränkt den Bestimmungen des jeweils gültigen Kennzeichenrechts und den Besitzrechten der jeweiligen eingetragenen Eigentümer. Allein aufgrund der bloßen Nennung ist nicht der Schluss zu ziehen, dass Markenzeichen nicht durch Rechte Dritter geschützt sind. Das Copyright für veröffentlichte, von der talktotheworld.com Ltd. selbst erstellte Objekte bleibt allein bei der talktotheworld.com Ltd.. Eine Vervielfältigung oder Verwendung solcher Grafiken, Tondokumente, Videosequenzen und Texte in anderen elektronischen oder gedruckten Publikationen ist ohne ausdrückliche Zustimmung der talktotheworld.com nicht gestattet.

5. Datenschutz
Sofern innerhalb des Internetangebotes die Möglichkeit zur Eingabe persönlicher oder geschäftlicher Daten (E-Mail-Adressen,
Namen, Anschriften) besteht, so erfolgt die Preisgabe dieser Daten seitens des Nutzers auf ausdrücklich freiwilliger Basis. Die
Inanspruchnahme und Bezahlung aller angebotenen Dienste ist - soweit technisch möglich und zumutbar - auch ohne Angabe
solcher Daten bzw. unter Angabe anonymisierter Daten oder eines Pseudonyms gestattet.

6. Rechtswirksamkeit dieses Haftungsausschlusses
Dieser Haftungsausschluss ist als Teil des Internetangebotes zu betrachten, von dem aus auf diese Seite verwiesen wurde. Sofern Teile oder einzelne Formulierungen dieses Textes der geltenden Rechtslage nicht, nicht mehr oder nicht vollständig entsprechen sollten, bleiben die übrigen Teile des Dokumentes in ihrem Inhalt und ihrer Gültigkeit davon unberührt.
Copyright talktotheworld.com Ltd. ( 3tw.org ) 2014